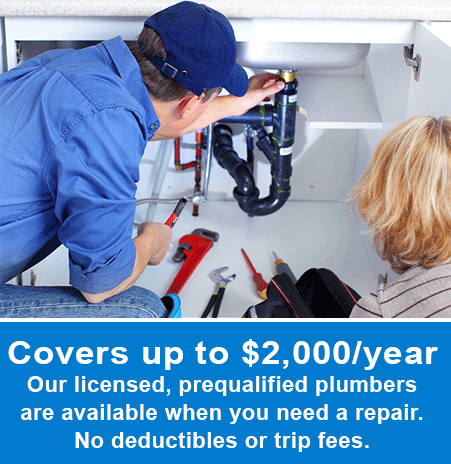 Plumbing Protection

Leaking water or drain lines and faulty shutoff valves can make life challenging. Finding a licensed plumber to make repairs can be an expensive, time-consuming and uncertain proposition. If you enroll in the Plumbing Protection plan, the remedy starts with a simple phone call to our customer service team.
With our Plumbing Protection plans, your covered repairs will be expertly completed by experienced, pre-qualified plumbers. Talk about peace of mind! Enroll now and get the protection you need!
Annual limit of up to $2,000 for repair coverage.
Repair of leaks or breaks to exposed, interior water supply lines/pipes and valves.
Repair of leaks or breaks to exposed, interior drain lines/pipes.
Repair of shut off valves leading to fixtures or appliances.
Service calls by a licensed plumber, up to coverage limits.
No deductibles or trip charges, even on weekends.
The age of your home and plumbing do not matter.
Repair coverage will begin 30 days after enrollment and is subject to eligibility. Additional exclusions and restrictions may apply. For complete information on the plan, including applicable terms and conditions, see the Customer Agreement.
Convenient monthly billing options available
Professional service from our skilled, in-house technicians or pre-qualified local service providers
Phone service is available 365 days per year, 24/7
No deductibles or trip charges
Add your plan with confidence. Your can cancel your plan any time with 30 days' notice and you will only be responsible for payment for the months you are on the plan.