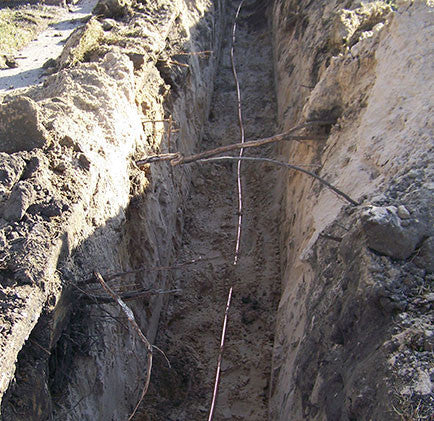 Outside Water Line Protection

Have you ever thought about exterior water service line warranty coverage? You count on having fresh water in your home for drinking, cooking and bathing. But if one of your outside water service line leaks because of corrosion or simple wear and tear, it may be up to you to arrange for and pay for repairs. Most utility companies are only responsible for the water service line until it reaches the shut-off valve near a home's property line. After that, it's typically up to the homeowner.

When a home's exterior water service line breaks, most people don't know who to call for a repair. Standard homeowners insurance policies typically do not cover these types of repairs. With Outside Water Line Protection coverage, you won't need to search the internet, survey family and friends, compare quotes, or check referrals and ratings. Just let us know when something is wrong and we'll send a pre-qualified service provider who knows how to fix the problem — quickly and properly.

Why Choose Oncourse Home Solutions?
You may have other exterior water line protection programs from which to choose, but Oncourse Home Solutions has been helping countless homeowners protect themselves from unexpected repair costs to outside water lines and other household lines, systems and appliances since 1992.

When you choose coverage for your exterior water line from Oncourse Home Solutions, you can rely on the fact that you won't have to cover the full cost of repairs out of your own pocket. Our Outside Water Line Protection warranty plan will cover labor and materials all the way up to the plan's coverage limits, with no deductibles or trip charges, and will often cover the entire cost of repair.

We have an extensive network of highly skilled and dependable contractors. With us on your side, you won't have to wonder where you can find reliable help to get your property back to normal.
Up to $4,000 per year for parts and labor to repair or replace a leaking or broken water line
Up to $1,000 for outside water lines in public sidewalk/driveway/road opening repairs
Up to $500 for landscape restoration reimbursement related to covered water line repairs
Repair coverage will begin 30 days after enrollment and is subject to eligibility. Additional exclusions and restrictions may apply. For complete information on the plan, including applicable terms and conditions, see the Customer Agreement.
Convenient monthly billing options available
Professional service from our skilled, in-house technicians or pre-qualified local service providers
Phone service is available 365 days per year, 24/7
No deductibles or trip charges
Add your plan with confidence. Your can cancel your plan any time with 30 days' notice and you will only be responsible for payment for the months you are on the plan.