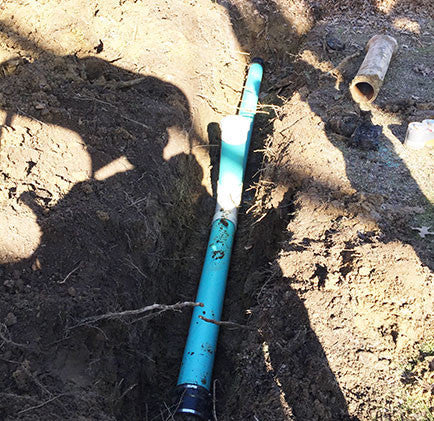 Outside Sewer Line Protection

Repairing an outside sewer line can be one of the most inconvenient and expensive tasks you face as a homeowner. When your sewer line is broken or clogged, you could experience backups in your sinks and toilets. You may see your landscaping ruined as crews work to repair the line that runs underground through your property. A break can run hundreds or even thousands of dollars to repair, not including the cost to restore your lawn.
With our Outside Sewer Line Protection Plan home warranty, you won't need to worry about finding a skilled professional or paying the full cost of covered repairs. Make one call to us and we'll dispatch a pre-qualified service provider who knows how to fix the problem fast — with no deductibles or trip charges for covered repairs.

What We Can Do for You
Choosing our Outside Sewer Line Protection Plan home warranty means you can be protected in case the line connecting your house to the sewer system needs to be repaired or replaced due to normal wear and tear. Most standard homeowners insurance policies do not cover this problem. With the Outside Sewer Line Protection Plan, you have up to $8,500 annually in combined coverage that adds up this way: up to $4,000 per year to repair, replace, or clear clogs, blockages and breaks in your outside sewer line; up to $4,000 per year for repairs to a public sidewalk, driveway or road opening resulting from covered work; and up to an additional $500 per year in reimbursement for restoring landscaping damaged as a result of covered work. See terms, conditions and limitations in the Customer Agreement.
When you purchase the Outside Sewer Line Protection home warranty plan, you'll also gain peace of mind. That's because you will not need to pay out of your own pocket for covered work done to the sewer line outside your home, all the way up to your coverage limits.
You also can be confident that your project will be in good hands. We have a network of local, highly qualified and skilled contractors and service providers who will handle your repairs with professionalism and courtesy. So with us on your side, you won't have to worry about finding a contractor you can trust. You will have the help you need to get your life back to normal as soon as possible.
Choose Oncourse Home Solutions
Since 1992, we've helped property owners protect themselves from unexpected repair costs for critical household systems, appliances and lines — like their outside sewer service lines. Our call center is available 24 hours a day, seven days a week, and we're dedicated to providing the highest level of customer service in everything we do.
To get started protecting your home against unpleasant surprises, enter your ZIP code at the top right of this page and find what home warranty plans we offer in your area. Then contact us today to learn more about how we can give you peace of mind in the event of an outside sewer line break or blockage..
Up to $4,000 per year in repair or replacement coverage, up to $4,000 per year for public street cutting and repair, plus up to $500 in landscape restoration reimbursement coverage per year for single-family homeowners.
Up to $4,000 per year to repair, replace or clear clogs, blockages or breaks in outside sewer line
Up to $4,000 per year for related public sidewalk/driveway/road opening repairs related to covered repairs
Up to $500 per year for landscape restoration reimbursement related to covered sewer line repairs
Repair coverage will begin 30 days after enrollment and is subject to eligibility. Additional exclusions and restrictions may apply. For complete information on the plan, including applicable terms and conditions, see the Customer Agreement.
Convenient monthly billing options available
Professional service from our skilled, in-house technicians or pre-qualified local service providers
Phone service is available 365 days per year, 24/7
No deductibles or trip charges
Add your plan with confidence. Your can cancel your plan any time with 30 days' notice and you will only be responsible for payment for the months you are on the plan.