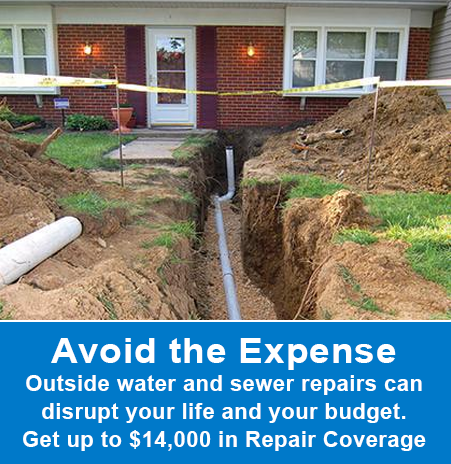 Outside Sewer and Outside Water Line Protection

The water and sewer service lines outside your home can be some of the most difficult pipes to repair when a problem occurs — after all, they're underground! You might be left without water service, or experience damage to your floors and walls from backups in your sinks and toilets. A leaking or broken water line, and a clogged or broken sewer line, could cost you hundreds or even thousands of dollars to repair.

Repairs to water and sewer service lines are typically not covered by standard homeowners insurance policies. Most people don't know who to call for help when a line break occurs, and most utility companies are not responsible for the water and sewer service lines running through your property. But with the Outside Water and Sewer Line Protection Plan from Oncourse Home Solutions, you'll have peace of mind knowing that pre-qualified service providers will complete the repairs — and save you money — starting with just one call.

What We Can Do for You
When you choose our Outside Water and Sewer Line Protection Plan, the program can provide funding for repairs and replacement of your home's outside service lines, including clearing clogs, opening public sidewalks and driveways, and restoring damaged landscaping. With this water and sewer service line protection program, homeowners don't have to worry if their outside water line begins to leak due to normal wear and tear. Sewer line problems also are covered — for example, if tree roots grow into the outside sewer line and create a clog, this can be remedied through our warranty plan.

In the event these utility service lines have a covered failure, our warranty plan is here to help with both the labor and the costs — and with no deductibles or trip charges. We have a network of highly skilled and dependable contractors. With us on your side, you won't have to wonder where you can find reliable help to get your property back to normal.

Choose Oncourse Home Solutions
Since 1992, we've helped countless property owners protect themselves from unexpected repair costs for their homes, including for their outside sewer and water lines. Our Call Center is available 24 hours a day, seven days a week, and we're dedicated to providing the highest levels of customer service in everything we do.
Up to $14,000 in Repair Coverage per year for single-family homeowners.
Up to $4,000 to repair, replace, or clear clogs and blockages for outside sewer lines
Up to $4,000 to repair leaks or breaks for outside water lines
Up to $4,000 for outside sewer lines and up to $1,000 for outside water lines in public sidewalk/driveway/road opening repairs
Up to $500 per line (up to $1,000 annually for both lines combined) for landscape restoration reimbursement related to covered water or sewer repairs
Repair coverage will begin 30 days after enrollment and is subject to eligibility. Additional exclusions and restrictions may apply. For complete information on the plan, including applicable terms and conditions, see the Customer Agreement.
Convenient monthly billing options available
Professional service from our skilled, in-house technicians or pre-qualified local service providers
Phone service is available 365 days per year, 24/7
No deductibles or trip charges
Add your plan with confidence. You can cancel your plan any time with 30 days' notice and you will only be responsible for payment for the months you are on the plan.