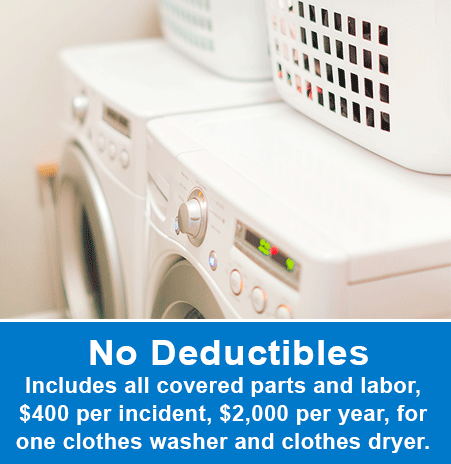 Laundry Room Repair

Imagine how fast the clothes would pile up in your home if your washer or dryer broke down and you couldn't find a qualified appliance repair professional to fix the problem fast. Smart homeowners prepare for breakdowns with a Laundry Room Repair plan. There are no deductibles or service call fees and there is no need to worry about finding someone who can repair your particular appliance brand.
Repair coverage one clothes washer and/or one clothes dryer
Includes all covered parts and labor resulting from mechanical or electrical failure
Coverage of up to $400 per incident in repairs or replacement and up to $2,000 annually
Note: Plan does not cover water lines or gas lines leading to the appliances. For coverage, please see our gas line and indoor plumbing plans. Additional exclusions and restrictions may apply. For complete information on the plan, including applicable terms and conditions, see the Customer Agreement.
Convenient monthly billing options available
Professional service from our skilled, in-house technicians or pre-qualified local service providers
Phone service is available 365 days per year, 24/7
No deductibles or trip charges
Add your plan with confidence. Your can cancel your plan any time with 30 days' notice and you will only be responsible for payment for the months you are on the plan.
No restrictions on age, make or model