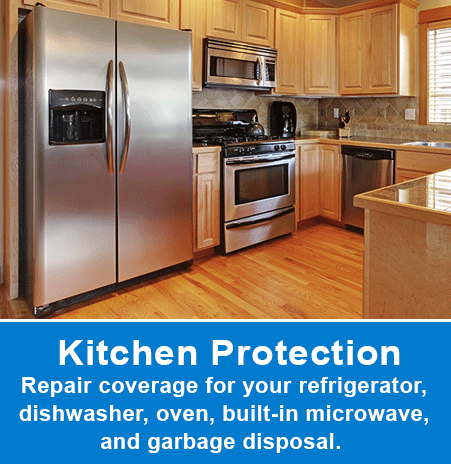 Kitchen Protection Plan

Imagine what your home life would be like if one of your kitchen appliances broke down. At a minimum, it would be inconvenient, but it could also be very expensive to repair or replace. And what if more than one appliance broke down? Even if your appliances came with manufacturers' warranties — a dishwasher warranty, a refrigerator warranty, or a built-in microwave oven warranty, for example — those kitchen appliance manufacturers' warranties do expire. Once they do, they don't cover typical wear and tear as you continue to use your appliance.

Our Kitchen Protection Plan, however, is a kitchen appliance protection plan that continues to protect your budget and give you peace of mind for as long as you're enrolled. With our Kitchen Protection Plan, you'll receive combined coverage of up to $10,000 total per year - that's a $2,000 annual limit ($400 per incident) on parts and labor for each the following appliances:
Refrigerator

Range
Dishwasher
Built-in microwave oven
Garbage disposal
Repair coverage will begin 30 days after enrollment and is subject to eligibility. Additional exclusions and restrictions may apply. For complete information on the plan, including applicable terms and conditions, please see the customer agreement.
Professional service from local, experienced, pre-qualified service providers
Phone service is available 365 days per year, 24/7
No deductibles or trip charges
Convenient monthly billing options available
Add your plan with confidence — you can cancel it any time and you will only be responsible for payment for the months you were on the plan
No restrictions on your appliances' ages, makes or models