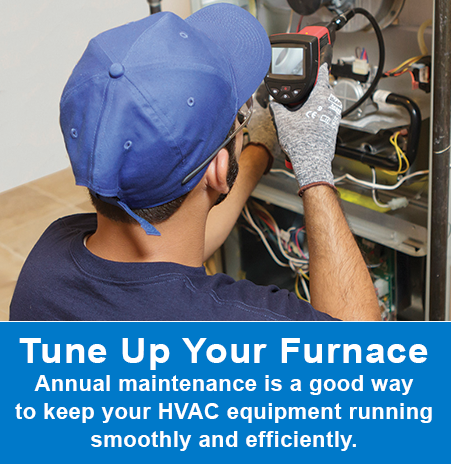 Heating Maintenance

Most of the time, we expect our furnaces or boilers to be there when we need them. However, unless you give these systems the regular attention they need, there's a much greater chance that they'll break down exactly when they shouldn't. The middle of winter is the worst time to find out they should have been serviced sooner.
Each year, your heating system should be maintained by a certified professional to ensure safe operation and peak efficiency. Preventive maintenance can help provide uninterrupted heating and avoid a system failure in the harsh cold winter months.
Fortunately, we can take the guesswork and hassle out of this process by providing you with our Heating Maintenance plan. With this heating system maintenance plan, you can rest easy knowing that your essential equipment will be serviced regularly by knowledgeable, experienced technicians.
Annual maintenance service on one furnace or one boiler.
Includes a 20-point heating tune-up, including (as applicable):
Clean and adjust burners and pilot.
Check heat exchanger cells.
Clean and check blower assembly.
Check air filter.
Check for furnace noises or vibrations.
Check that safeties operate.
Check heating unit venting and drafting.
Visual inspection of water heater.
Check for carbon monoxide leaks.
Replace thermocouple if needed.
Additional exclusions and restrictions may apply. For complete information on the plan, including applicable terms and conditions, see the Customer Agreement.
Convenient monthly billing options available.
Professional service from our skilled, in-house technicians or pre-qualified local service providers.
Phone service is available 365 days per year, 24/7.
No deductibles or trip charges.
Add your plan with confidence. Your can cancel your plan any time with 30 days' notice and you will only be responsible for payment for the months you are on the plan.
No restrictions on age, make or model.