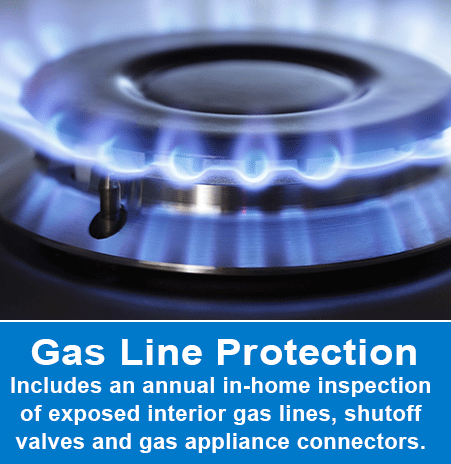 Gas Line Protection

Basic homeowners insurance policies often do not cover repair or replacement of natural gas lines, which means that you are responsible for the cost of the repair of natural gas lines inside your home. That's why our natural gas line coverage is a great choice. Coverage includes an annual in-home inspection of your interior gas lines, shutoff valves and gas appliance connectors, including the connections at your heating system.
Our Gas Line Protection plan covers repairs to leaks on interior gas lines that can develop over time due to everyday wear and tear. With our gas line warranty plans, leaking and other dangerous connectors will be replaced as part of your home gas line protection coverage.
Important: If you smell natural gas in your home, leave immediately. Do not operate anything that could cause a spark, including lights, cell phones, flashlights, and appliances. From a safe location, call 911 and your local utility, which will dispatch a crew to check on the source of the odor and make the area safe.
About Oncourse Home Solutions
Oncourse Home Solutions protects homeowners from unexpected repair bills, giving people the peace of mind that comes from knowing they don't have to go it alone. Our customer support representatives are available 24/7 if something goes wrong, and we have a network of pre-qualified service professionals ready to make things right in your home.
To see what protection plans are available in your area, enter your ZIP code above. Once you do, enroll in the plan or plans that are right for you and your property.
No waiting period; coverage begins as soon as your enrollment is approved.
Up to $2,500 in protection per year to cover repairs to exterior natural gas lines (such as those running to detached garages and outdoor appliances like grills, lamp posts, and pool heaters).
Includes an annual in-home inspection of your interior natural gas lines, appliance connectors, and shutoff valves.
Reimbursement of up to $250 for professional restoration costs (such as painting, drywall, filling in holes, or landscape restoration) necessitated by a covered repair.
Additional exclusions and restrictions may apply. For complete information on the plan, including applicable terms and conditions, see the Customer Agreement.
Convenient monthly billing options available
Professional service from our skilled, in-house technicians or pre-qualified local service providers
Phone service is available 365 days per year, 24/7
No deductibles or trip charges
Add your plan with confidence. Your can cancel your plan any time with 30 days' notice and you will only be responsible for payment for the months you are on the plan.