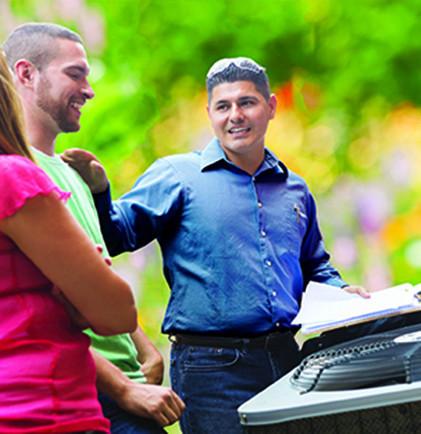 Cooling Maintenance

Your central air conditioner should be tuned up and its refrigerant level checked each year in order to maintain peak efficiency. Without proper attention, your AC equipment could fail when you need it the most. Take care of this important annual service with our Cooling Maintenance plan. Oncourse Home Solutions offers this cooling home warranty plan that can help you ensure you receive the annual maintenance services you need to help keep your air conditioning system running as it should. When you choose this coverage, you will have access to expert technicians who can come to your home and deliver the preventive care your cooling system needs.
Cooling Maintenance is an air conditioner maintenance plan that includes an annual performance tune-up for one central air conditioner. There are no restrictions on the age or model of your AC unit. When you rely on us to handle your air conditioner's regular maintenance requirements, all work is performed by one of our experienced in-house service technicians or one of our highly qualified network contractors.
Why Choose Oncourse Home Solutions?
Oncourse Home Solutions offers numerous options when it comes to covering the vital systems and appliances you depend on in your house. When you choose one of our home warranty products, you can expect to receive prompt, professional service from people who know what they are doing. Not only do we have our own experts in-house, but we also have a network of professional technicians and specialists who can provide help when you need it. Enter your ZIP code above to find out what programs we offer in your neighborhood, then get in touch with us to purchase the Cooling Maintenance plan, Cooling Protection plan, or any other plans that make the most sense for you.
Annual performance tune-up on one primary central cooling system, ducted electric central air conditioning, and blower motor located in the furnace if necessary for proper operation of the cooling system.
Inspect and clean condensers.

Check the electrical connection and AMP draw.
Note: Air Conditioning maintenance can only be performed in dry conditions with temperatures over 55 degrees Fahrenheit. Additional exclusions and restrictions may apply. For complete information on the plan, including applicable terms and conditions, see the Customer Agreement.
Convenient monthly billing options available.
Professional service from our skilled, in-house technicians or pre-qualified local service providers.
Phone service is available 365 days per year, 24/7.
No deductibles or trip charges.
Add your plan with confidence. Your can cancel your plan any time with 30 days' notice and you will only be responsible for payment for the months you are on the plan.
No restrictions on age, make or model.