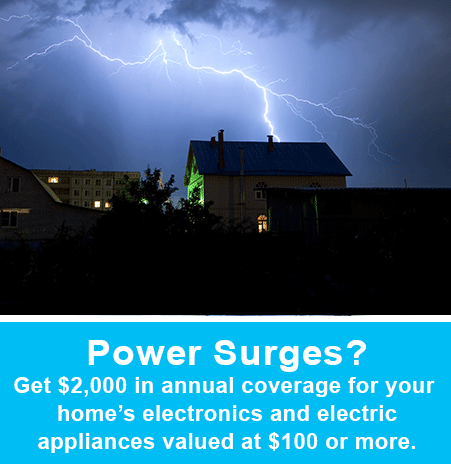 Surge Protection $2,000

You likely already know that power surges can cause extensive damage to your electronic items. However, there are a lot of people who don't know that surge damage may be related to causes other than from a storm. Your furnace, your refrigerator — or other appliances that cycle on and off — may be slowly damaging your home's electronic items. Restoring power after an outage can also cause harm.

The affordable Surge Protection Plan gives you financial protection and peace of mind from worry for all your home's electronics and electric appliances valued at $100 or more, including computers, gaming consoles, kitchen and laundry room appliances and more.
Covers residential electronics, electrical systems, appliances and other electrical devices valued at $100 or more within your residence that fail due to electrical surges.
$2,000 per annual term for the repair or reimbursement toward replacement
Covered appliances include:
o Computers.
o Stereo equipment.
o Heating systems.
o Electric appliances, such as refrigerators, washers and dryers.
Please note: You must request a claim form no later than thirty (30) days of an electrical surge incident. The claim form must be completed in full and returned with a copy of the service provider invoice within thirty (30) days of receiving the claim form. Repair coverage will begin 30 days after enrollment and is subject to eligibility. Additional exclusions and restrictions may apply. For complete information on the plan, including applicable terms and conditions, see the Customer Agreement.
Convenient monthly billing options available.
Phone service is available 365 days per year, 24/7.
No deductibles or trip charges.
Add your plan with confidence. You can cancel your plan anytime with 30 days' notice and you will only be responsible for payment for the months you are on the plan.